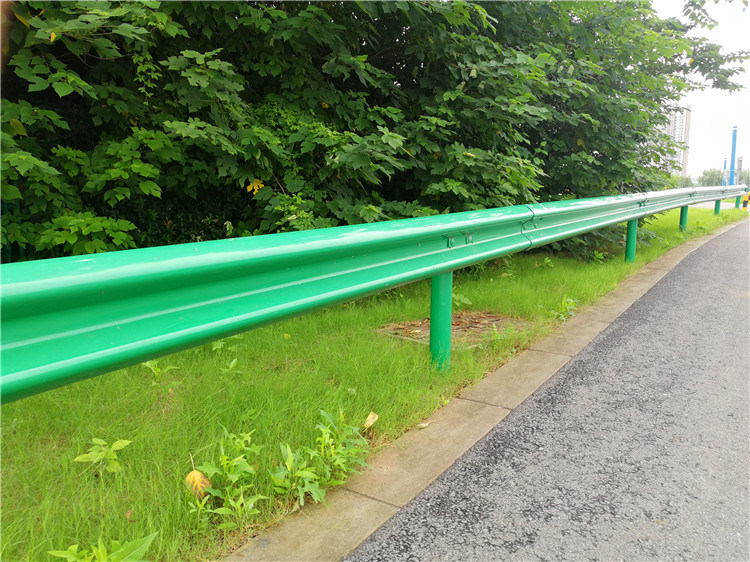 GENERAL INFORMATION
1. DESCRIPTION
Our Highway Guardrail Beam meet AASHTO M180 Class A, Class B, Type I and Type II, and SGS Test Report showing the goods meeting AASHTO M180 (Standard Specification for
Corrugated Sheet Steel Beams for Highway Guardrail) for each order is available upon request.
Classification, materials, mechanical properties, coating requirements and ordering information of highway guardrail are accurately described and designated according to AASHTO M180.
2. SPECIFICATIONS
Classification, materials, mechanical properties, coating requirements and ordering information of highway guardrail are accurately described and designated according to AASHTO M180.
2.1 Classification:
Types:
Surface treatment are divided into four types, and type I and type II are hot dip galvanized surface treatment.
Type I-Zinc coated, 550 g/m2 (1.80 oz/ft2) minimum single-spot.
Type II-Zinc coated, 1100 g/m2 (3.60 oz/ft2) minimum single-spot.
Type III-Beams to be painted.
Type IV-Beams of corrosion resistant steel.
Classes:
steel thickness is categorized into two class
Class A-Base metal nominal thickness-2.67 mm (0.105 in.)
Class B-Base metal nominal thickness-3.43 mm (0.135 in.)
2.2 Base Metal:
The beam, transition, end, and buffer sections shall consist of sheet made of open hearth, electric furnace or basic oxygen steel and shall meet the mechanical properties specified in Section 8 as below.
Mechanical properties:
The mechanical properties of the base metal shall conform to the following requirements:
Beams and transition sections:
Yield Point, minimum, 345 MPa (50000 psi);
Tensile Strength, minimum 483 MPa (70000 psi); and
Elongation, in 50 mm (2 in.), minimum, 12 percent.
End and buffer sections:
Yield Point, minimum, 227 MPa (33000 psi); and
Tensile Strength, minimum 310 MPa (45000 psi).
2.3 Coating requirements:
Type I and Type II beams:
The beams may be galvanized before or after fabrication.
The mass of coating shall conform to the requirements prescribed in Table 1 for the types
specified. The mass of coating is the total amount of galvanizing on both sides of a sheet or beam,
expressed as grams per square meter (oz/ft2) of sheet.
Model

Min Check Limit Single-Spot Test

Min Check Limit Triple-Spot Test

g/m

2

oz/ft

2

g/m

2

oz/ft

2

Type I

550

1.80

610

2.00

Type II

1100

3.60

1220

4.00
2.4 Ordering information:
Orders for guardrail under this specification shall include the following information, as required, to adequately described material:
Quantity (linear meter or number of pieces).

Class of guardrail.

Types of guardrail.

Effective length of beam section 3.8 mm or 7.6 mm.

Shape (W-beam or Thrie-beam).

Exceptions to this specification or special requirements, if any.
2.5 Drawings: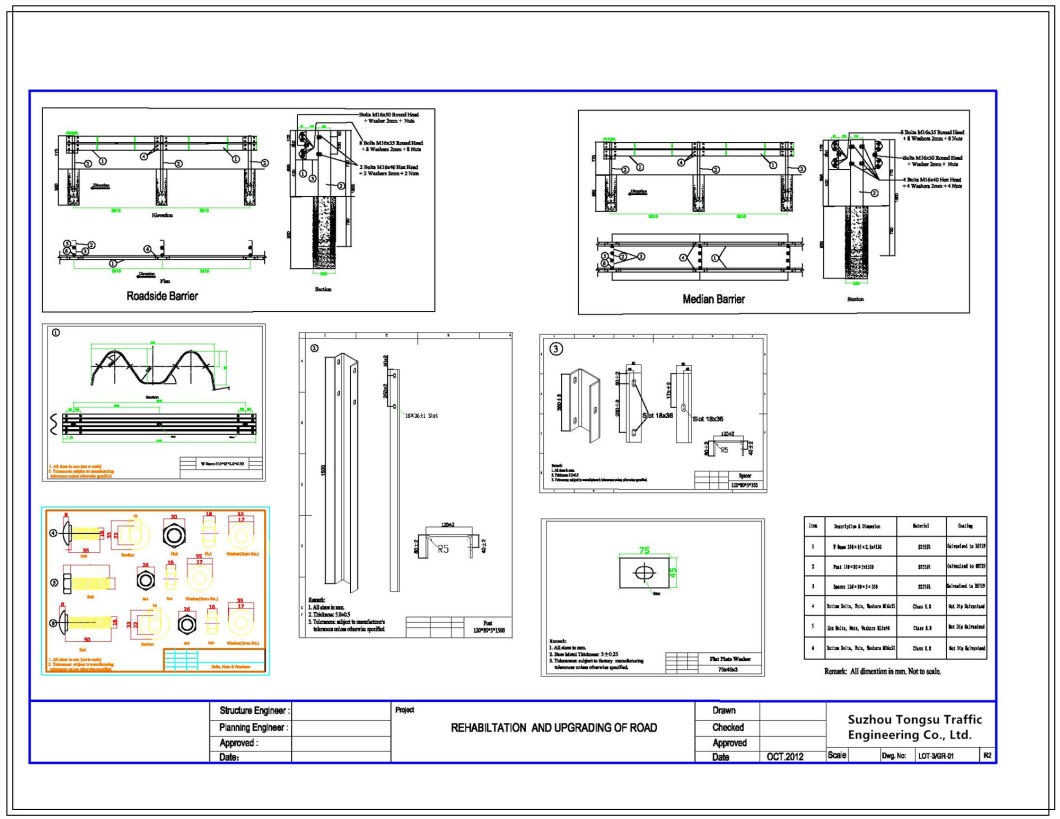 We always confirm orders by detailed drawings of highway guardrails, sales agreement, and designated standards and norms, and we always respect the drawings, sales agreement, designated standard. We always use our professional and sincerity to serve our clients, client's satisfaction and friendship is our persuit.
3. PRODUCTS
Our complete highway guardrail systems including w beam guardrail, Thrie beam guardrail, highway guardrail post, spacer, end terminal, reflector, bolts, etc.
Details and Parts Names
| | | |
| --- | --- | --- |
| Item | Highway Guardrail Parts Names | Remark |
| 1 | W Beam | Also Guardrail Beam, Two Wave Corrugated Beam |
| 2 | Post | |
| 3 | Spacer | Also Block, Blockout, Blocking Piece |
| 4 | Bolts, Nuts, Washers | Anti-Theft Bolts, Nuts, Washers available |
| 5 | Reflector | Also Cat's Eye |
| 6 | Thrie Beam | Three Wave Guardrail Beam |
| 7 | W to Thrie Beam Transition | |
| 8 | End Terminal | Fishtail and Bullnose, End Anchorage, etc. |
| 9 | Crash Cushions | Also Impact Attenuators |
4. OTHER RELEVANT PRODUCTS
Crash Cushion, Corrugated Steel Pipe Culvert, Highway Noise Barrier, etc.
5. CERTIFICATES
SGS Test Report meeting AASHTO M180, ISO9001, ISO14001, etc.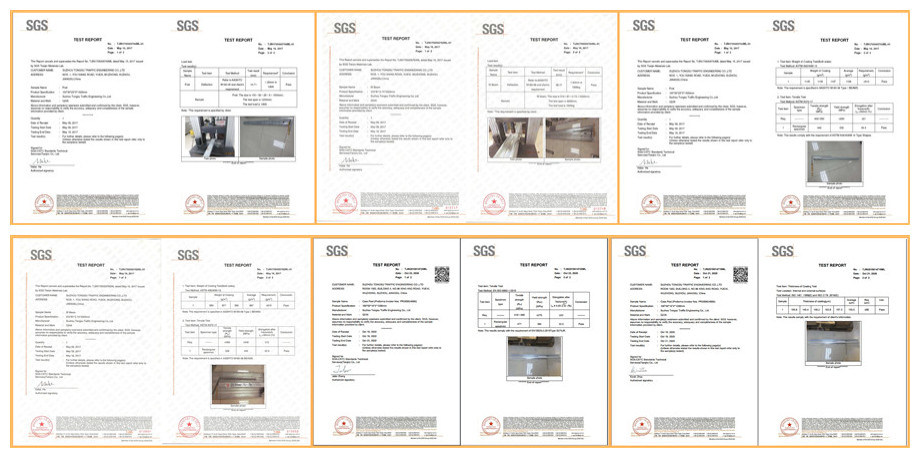 AASHTO Test by SGS for Highway Guardrail Beam and Crash Barrier Post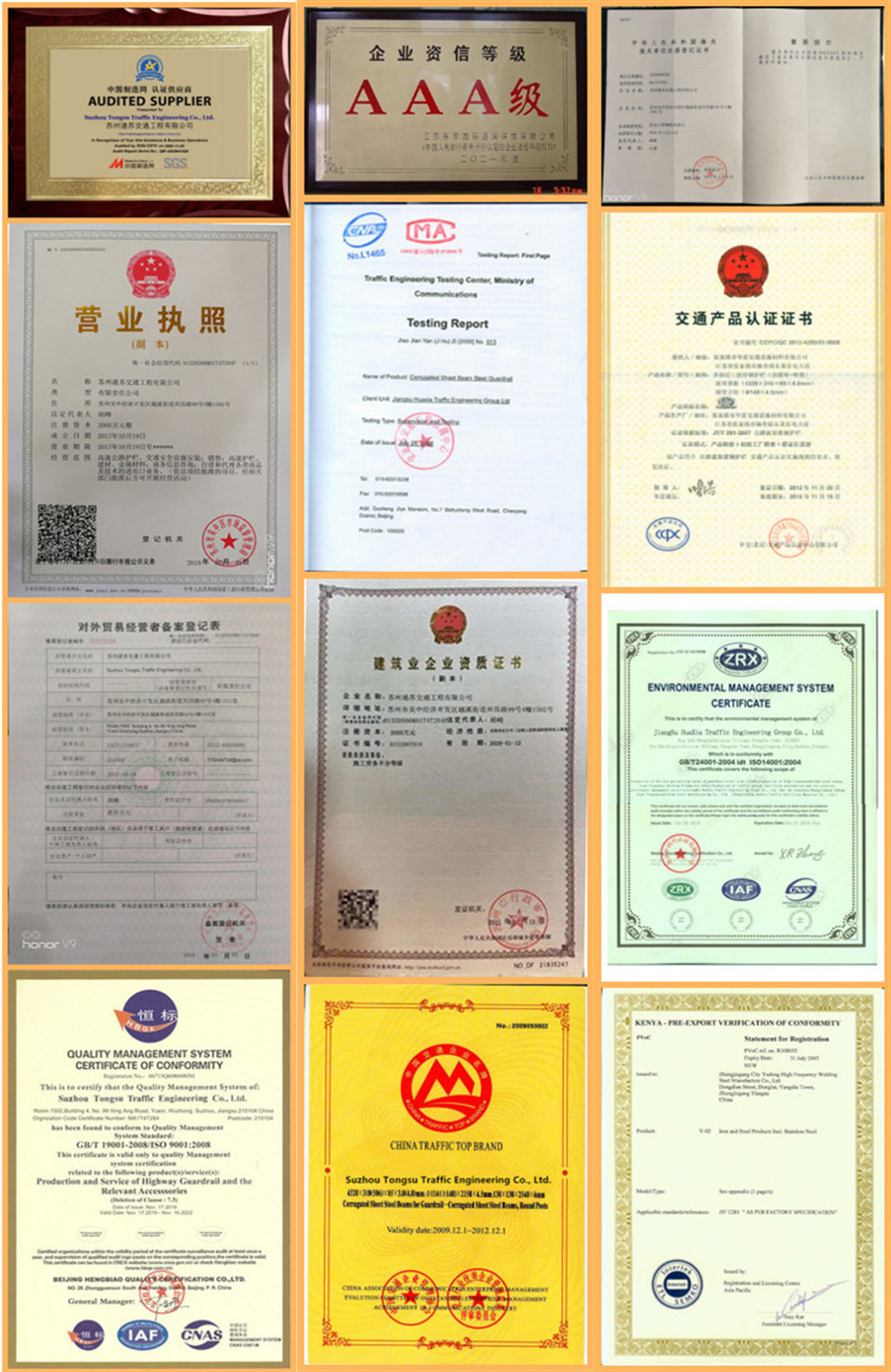 Our various certificates
6. COMPANY PROFILE
Suzhou Tongsu Traffic Engineering Co., Ltd. Is a professional manufacturer and exporter of complete system of highway guardrail, crash barrier and road safety products.
Equipped with state-of-the-art fabrication equipment such as W Beam and Thrie Beam Guardrail cold roll forming machine, uncoiling slitting recoiling Line, cold bending machine, punching machine, hot DIP galvanizing plant. Tongsu Traffic can manufacture super quality goods as below:
Highway Guardrail
Crash Barrier
Road Furniture and construction materials
Tongsu Traffic manufacture highway guardrails according to AASHTO M180, JT/T281-2007 and relevant international standards. And we are ISO9001, ISO14001 certified. Our superior quality guardrail products can make our customers always satisfied.
7. CLIENT VISIT AND MEETING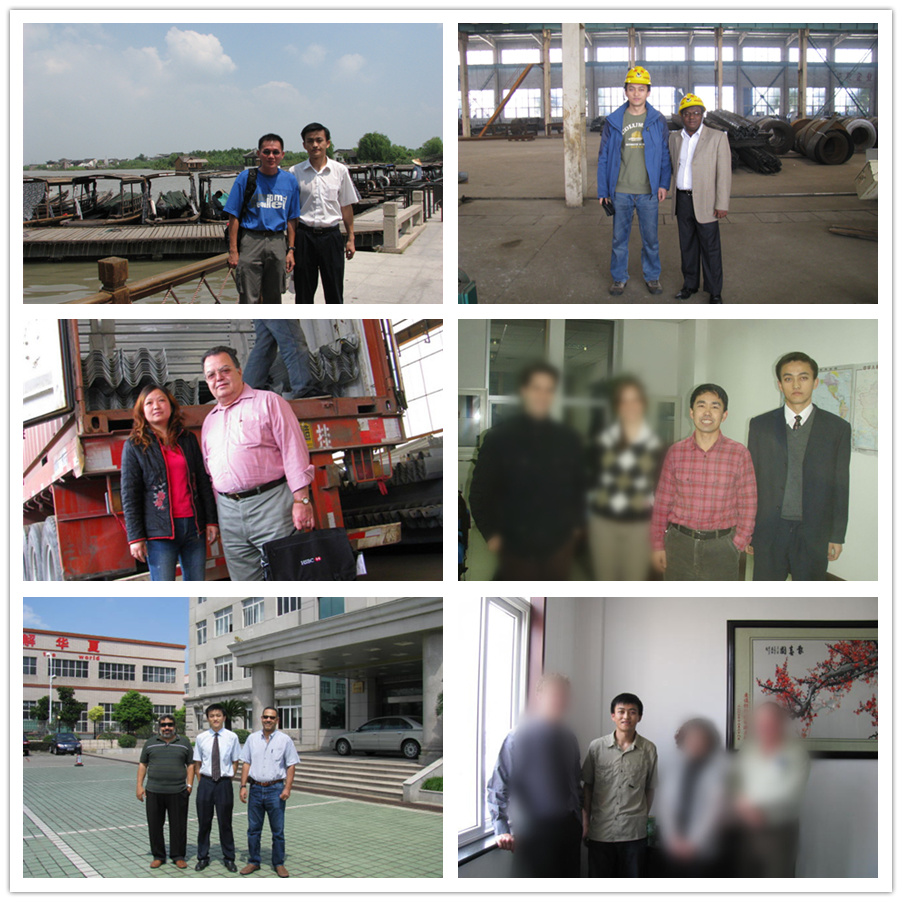 We have been exporting to more than thirty countries and we warmly welcome our client's visit!
8. TRADE SHOW AND EXHIBITION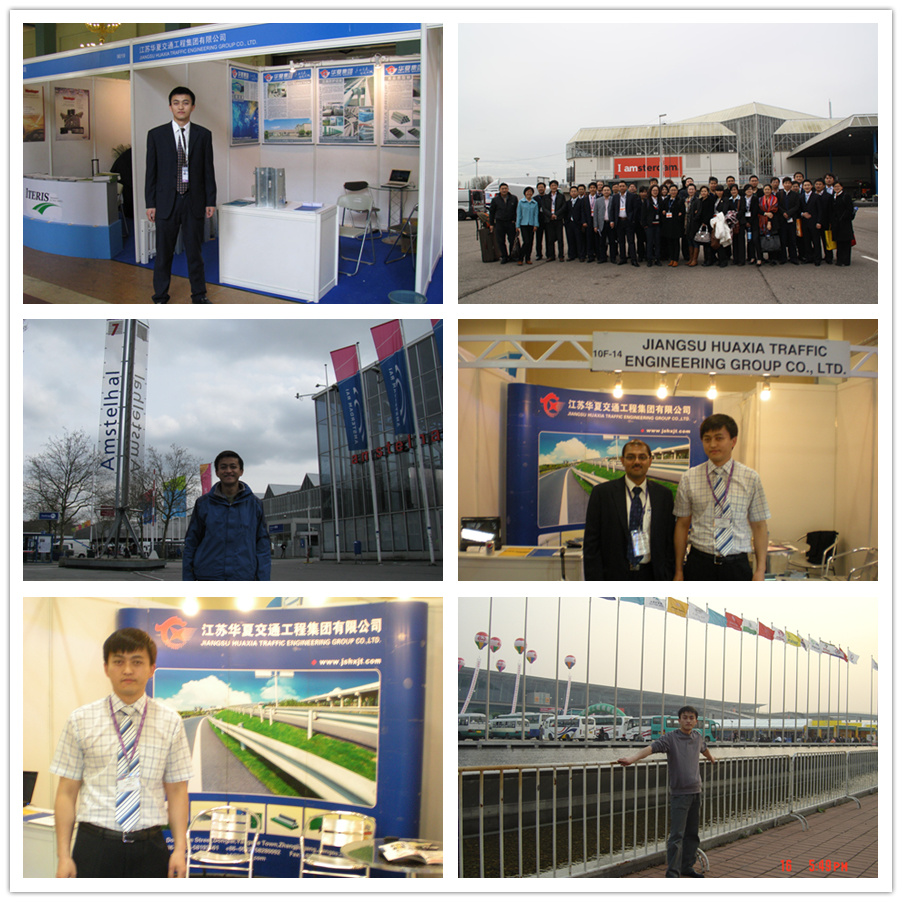 We attend professional road traffic safety shows and exhibition all over the world
We mainly attend traffic safety shows and exhibition as below:
Gulf Traffic

Intertraffic Amsterdam

Intertraffic China

TranspoQuip in

Brazil

Intertraffic Istanbul

Intertraffic Indonesia
9. FACTORY AND WORKSHOP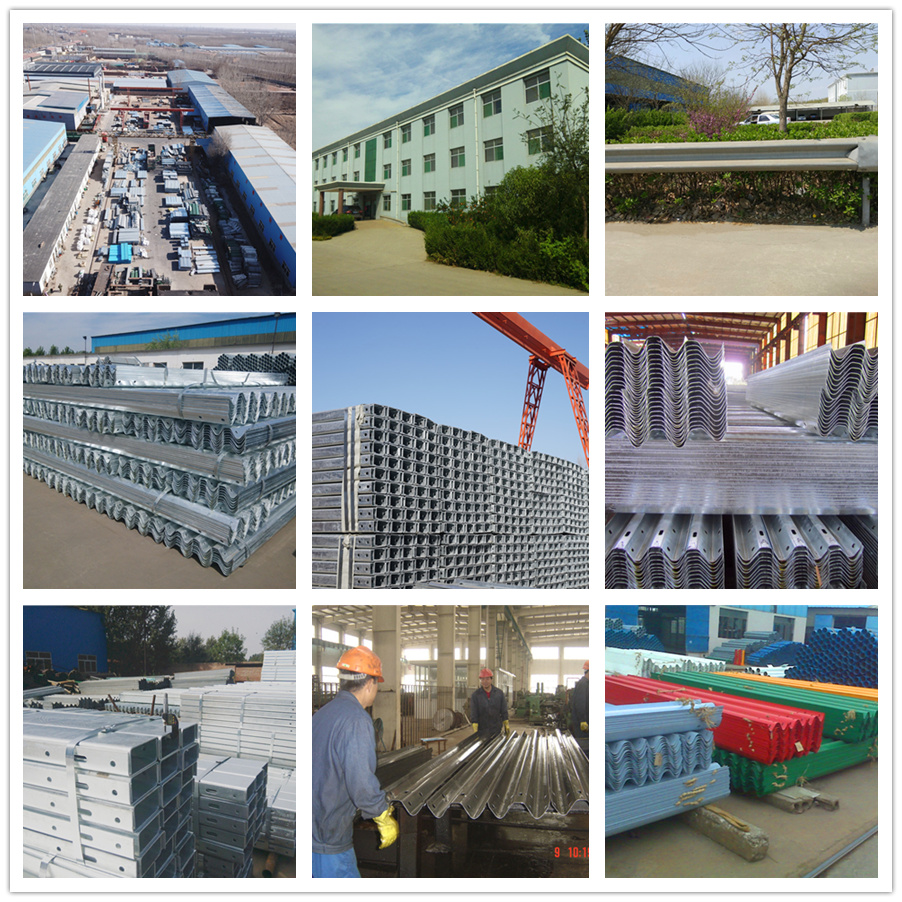 Our highway guardrail factory can manufacture crash barrier and relevant road safety steel products 50000 metric tons per year, which can meet lead time for most orders from our clients.
10. PRODUCTION PROCESS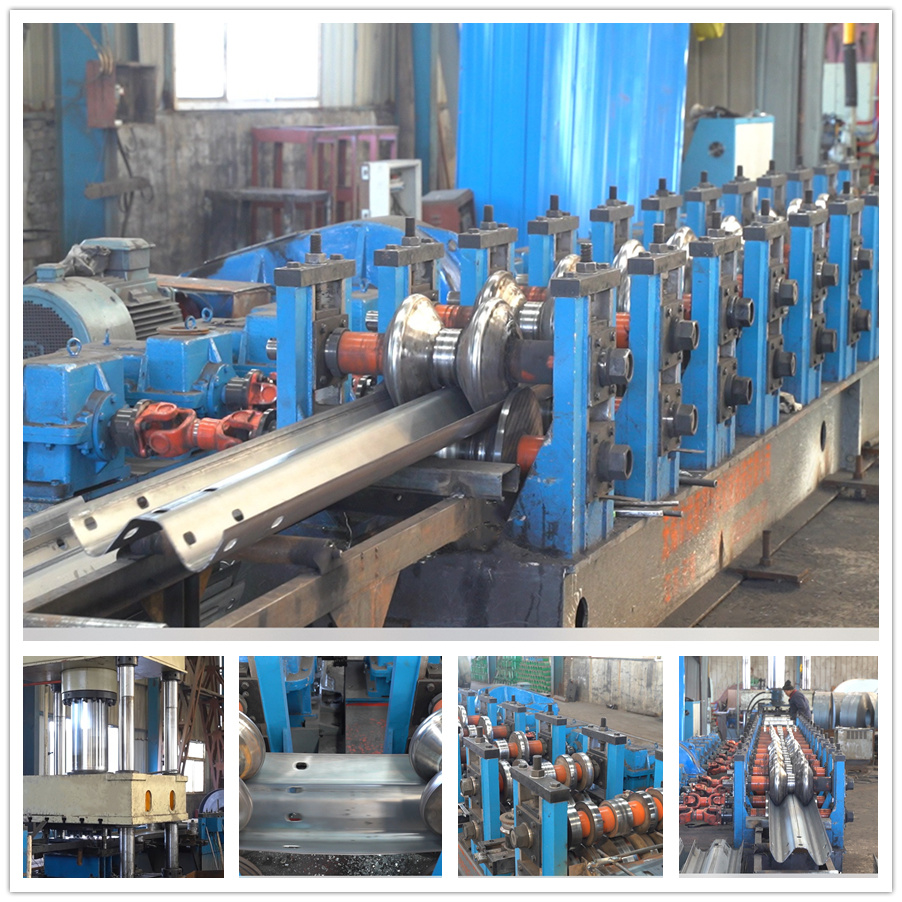 10.1 Fabrication of highway guardrail beam:





Steel Coil, Sampling,Tensile Test, Remove Steel Coil Edge,Flatten, Punching, Shearring, Cold Roll Formed with

Highway Guardrail Roll Forming Machine,

Accurate Correction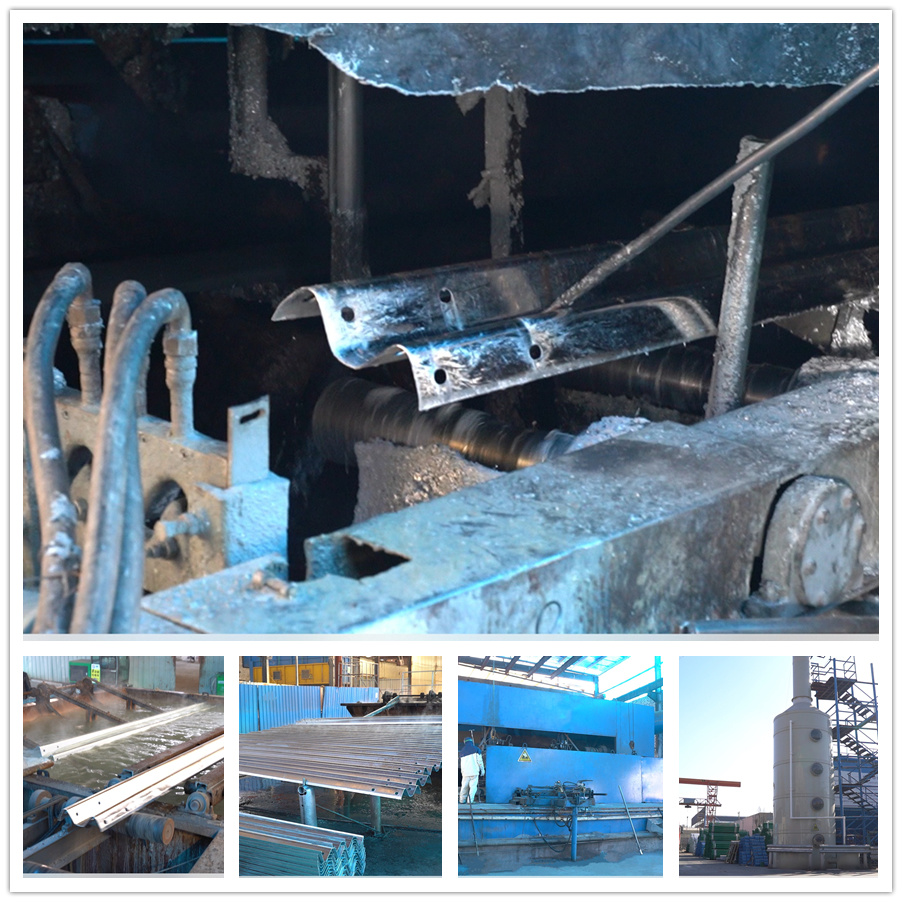 10.2

Hot Dip Galvanizing Process:



Pretreatment,

Acid Wash, Pre-galvanization, Hot Dip Galvanized, Water Cooling, Zinc Coating Check, Deactivation, Repair or Remedy
11. SHIPMENT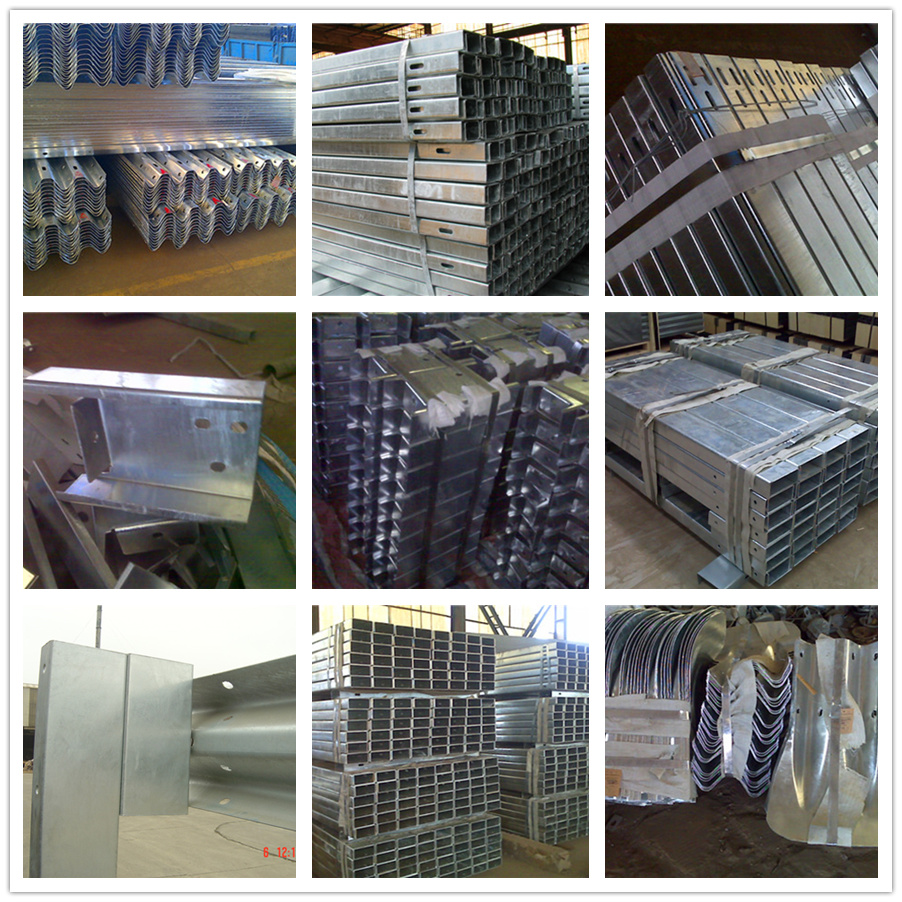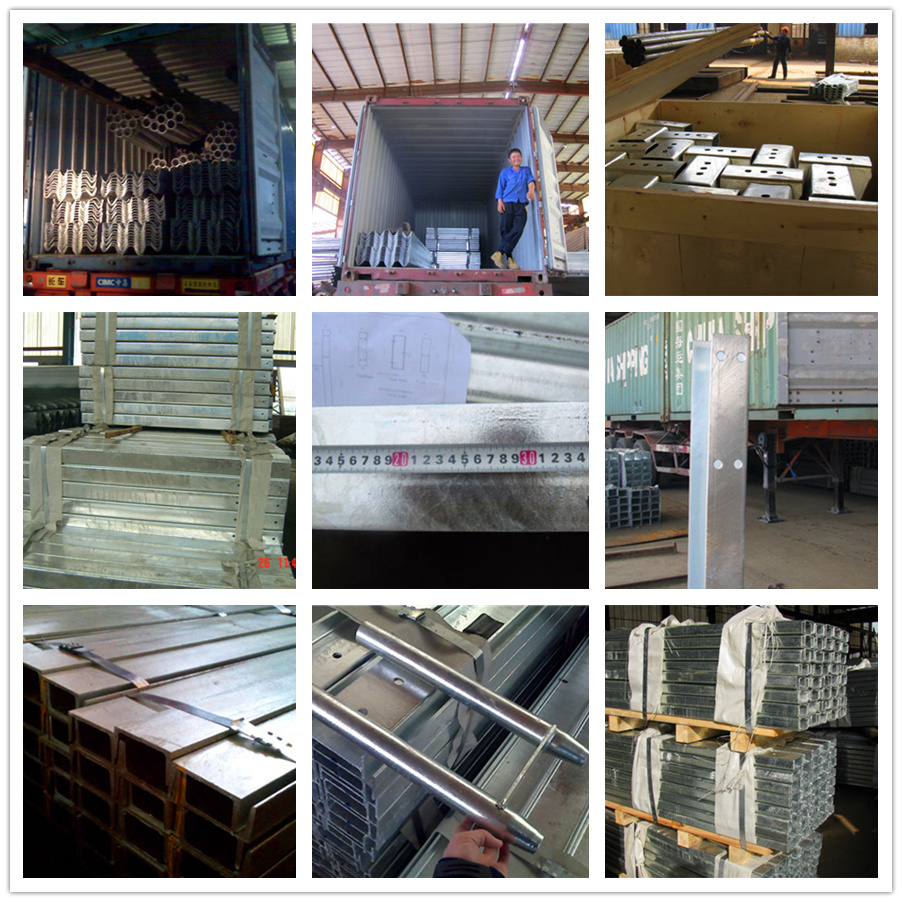 We have been shipping highway guardrail products to so many countries such as:

Southeast Asia: Malaysia, Indonesia, Sri Lanka, Brunei, The Phillipines, India, etc.
Middle East: U.A.E, Saudi Arabia, Kuwait, Oman, Qatar, etc.
Africa: Mauritius, Ghana, South Africa, Kenya, Albania, Algeria, Congo, etc.
Southern and Central America: Bolivia, Panama, Brazil, Columbia, Suriname, etc.
12. CONTACT US
More details see our official Website: highwayguardrails.en.made-in-china.com