The thrie beam highway guardrail (also called tri-wave crash barrier, road barrier, guardrail barrier, metal beam barrier, etc.) is a type of guardrail used in specific circumstances where additional coverage may be necessary. The installation of tri-beam guardrail along the highway can help to protect the errant cars from crashing off the road.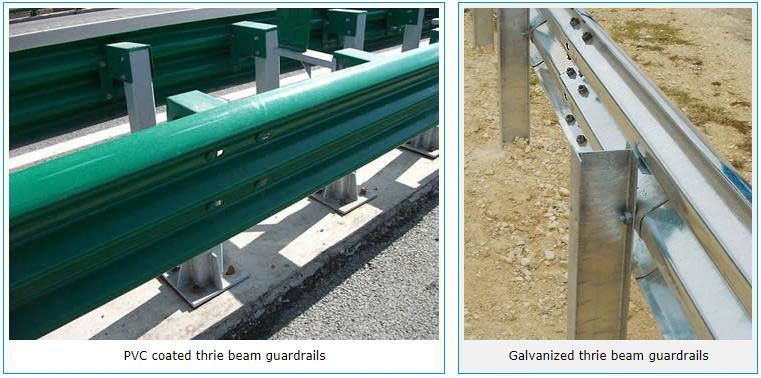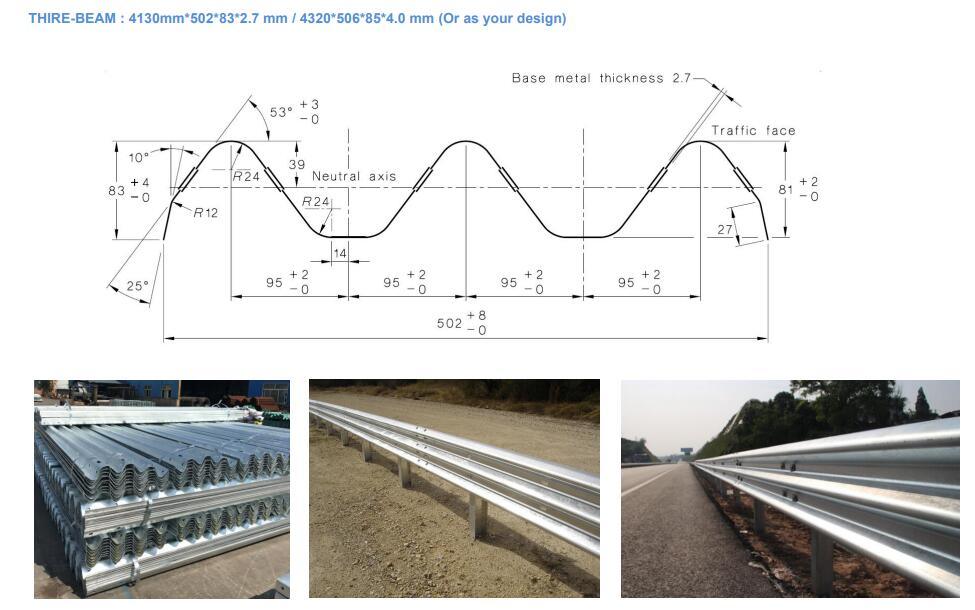 Dachu Roadway Safety Thrie Beam
Specification
Profile

Three Waves

Tri-beam Highway Guardrails

2320/3320/4128/4218/4318/4320*506/508/510*2.76/2.8/3/4/4.5/5/10mm

Base Material

A572/Q345B/HA350/Q235B/A36/S355JR/S275JR or equivalent

Beam Thickness

2.5/2.6/2.67/2.7/2.8/2.82/3/4/4.5/10/20mm or according to consumers' request

Surface Treatment

Hot-Dip Galvanizing Or Plastic Spray

Adhesion of Galvanizing

300g/m2 (40µ) or 550g/m2 (80µ) or 610g/m2 (85µ) or 1100 g/m2 (160µ) or 1220 g/m2 (170µ)
or as per your request

Certificate

AASHTO, AS/NZS, EN, ISO9001, ISO14000, SGS, CE, BV

Feature

Great corrosion resistant, high intensity, long and durable, with good impact resistance, low cost, long life, higher security, environmental protection, etc.

Other

Other special specification as per client's requirement or drawings
Why Thrie Beam is better than other barriers in some cases?
The other solid barriers, like utility poles, bridge piers and retaining walls, can also stop the cars. But in these cases, impact from a guardrail would be milder than that from other solid barriers without elasticity, that's the reason why we install the corrugated guardrail along dangerous road. Crash barriers can lessen the severity of a potential crash and make the driver and passengers safer. The highway guardrail can affect and make the vehicle came back onto the road, reduce the damage caused by accidents.
Advantages of thrie beam highway guardrail:
1. Safety: the thrie beam highway guardrail is mostly installed on the roadside where is danger and where the car is with high speed, to keep the car is on the right way and the things or animals go into the road, to ensure people safety.
2. High strength: anti-corrosion thrie beam highway guardrail is made of Q235/Q345 steel, it is high strength with toughness.
3. Long life: after cold rolled, the thrie beam highway guardrail will do hot dipped galvanization in the zinc pool with high temperature, which highly improves its antioxidant capacity and corrosion resistance.
4. Eco-friendly: the Q235/Q345 steel, the material of thrie beam highway guardrail, is recyclable and reusable. It can be used to make other metallic products by recycling.
5. Easy installation and repair: its simply assembled by bolts and nuts, easy to install and change the guardrail spare parts.
6. Beautiful color: we can do powder spray with different color on the thrie beam highway guardrail, make it more beautiful and suitable with the road sight.
7. Cost-effective: compare with the other crash barrier (roller barrier, plastic barrier and so on), the powder-coated steel highway guardrail is of lower price and longer life.
We manufacture highway guardrails according to those Standards as below:




Beam Production Process: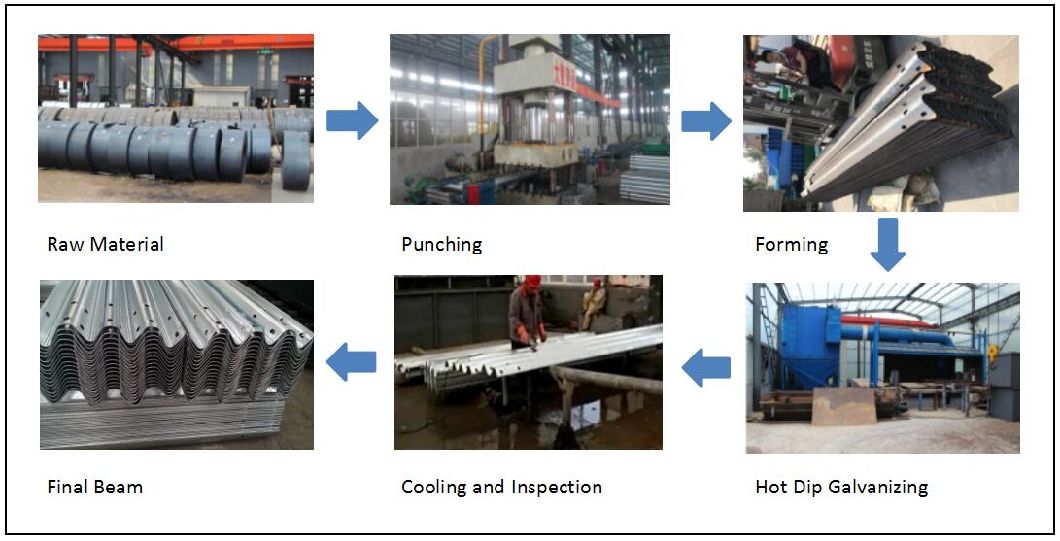 Guardrails Installation Steps:

Step 1. Site Preparation
Step 2. Driving the Posts
Step 3. Joining the W-Beam Guardrails Panels
Step 4. Connecting the W-Beam Guardrails Panels to the Posts
Step 5. Repeat Steps 2, 3 and 4
Step 6. Delineation (if required)

Beam Popular Applications:
1. Road/Expressway/Highway Guardrails.
2. Roadway guard rails crash barriers;
3. Roadway crash barriers;
4. Service roads;Car parking lot guardrails;
5. Car parking guardrails;
6. Warehouses;
7. Distribution depots;
8. Industrial barriers;
9. Pedestrian areas;
10. Bridge guardrail.
FAQs
Q: Are you trade company or guardrail factory?
A: We are guardrail manufacturer with 3 big factories 4 office area.
Q: Does your guardrail meet EN 1317 Standard ?
A: Yes, we can not only supply guardrail conforming with EN 1317 Standard, but also AASHTO Standard, AS 1594 Standard, and Chinese National Standard etc.
Q: Can you do the official test for the guardrail order, which authoritative organization is recommend?
A: Yes, the test for guardrail order can be arranged as per requirement, SGS test is recommended, and we could even do the test in the name of your company.
Q: Can you send us samples before we place the guardrail order, and how to charge it ?
A. Yes, we could send you guardrail samples for free, you just need to pay the postage fee.
Q: What is the delivery time for guardrails?
A: Normal production time for guardrail sets will be about 5-35 days, the final delivery time will be confirmed according to the guardrail order items and quantities.
Company Certificates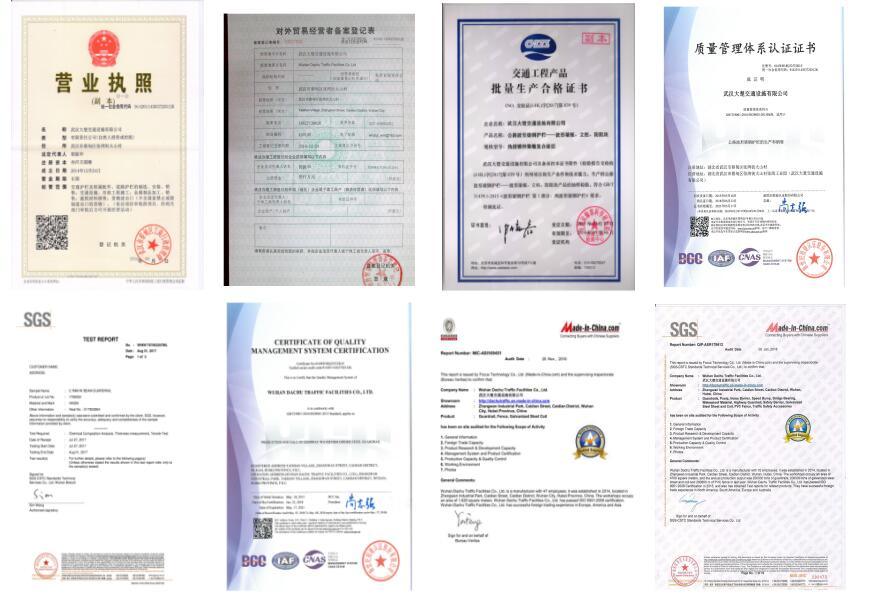 About us.
Wuhan Dachu Traffic Facilities Co.,Ltd is a professional manufacturing enterprise in traffic safety facilities products, officially registered in the year of 2014 at Zhangwan Industrial Park, Zhangwan Street, Caidian District, Wuhan City, Hubei Province, China. Products our company manufactures and sells include: W-beam guardrail set (galvanized and powder coated), Thrie beam guardrail set(galvanized and powder coated), and guardrail posts, spacers, backup plates, bolts & nuts, washers, terminal ends and other accessories in different specification and material.

The company has developed itself from previously a mere guardrail factory into currently four factories, occupying an area of 20,000 square meters. We have independently launched several new-type hot dip galvanizing production line, environment-friendly electrostatic spray production line, Scientific and technological hot dip coating production line as well as the most advanced systematic production line of pressing, punching, forming, cutting. The average annual output can reach as high as 600,000 tons.

Wuhan Dachu is a certified manufacturing company and qualified exporter. Wuhan Dachu guardrails conform to various international standards like JT/T 281-2007(Chinese Standard), AASHTO-M180(American Standard), AS/NZS 3845:1999(Australian and New Zealand Standard), BS EN-1317(European Standard), etc. What's more, we can customize the product according to customers' need. We have exported our guardrails to many different countries and regions, such as America, Spain, Italy, Australia, New Guinea, Malaysia, Bolivia, Mauritius, Sri Lanka etc.

WUHAN DACHU TRAFFIC FACILITIES CO., LTD SINCERELY INVITES YOU TO VISIT OUR COMPANY AND SEE THE PRODUCTION BASE IN PERSON.
COMPANY CODE: 91420114303720312K; TRADE LICENCE CODE: 03027006; CUSTOMS CODE: 420196619D